Springs
MEASURING TRAILER SPRINGS
MEASURING TRAILER SPRINGS
There are 3 basic types of springs for boat trailers.  These are: Double Eye, Single Eye, and Hook or Open Eye.
The following is some guidance on how to measure each type of spring.
Double Eye spring measurement: Measured from Center of Hole (Eye) to Center of hole.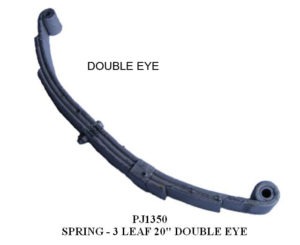 Single Eye or Slipper Spring: Measured form Center of Hole (Eye) to Center of tip where Frame of trailer would rest.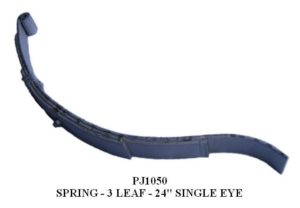 Open Eye Spring: Measured from Center of Eye to center of Hook.


There are 1 leaf 2, 3, 4, 5, 6, leaf springs. When measuring to replace springs, it is best to measure where they mount hole-to-hole as the old spring tend to have flattened out and are longer that they were when new.
The most common springs are 20″ double eye, 25-1/4″ double eye, 24″ single eye, 26″ single eye.
Leaf spring acts as part of your trailer's suspension system
Provides attachment point for your trailer's axle
Multiple leaves allow flexibility to absorb road shock
Allows for a smooth ride
Reduces wear and tear on the trailer
Ensures level ride on bumpy and uneven surfaces
Sturdy steel construction
Nylon bushing included on all springs