By placing an order over the phone or internet the customer agrees to all stated shipment policies.
OUTCAST WATERSPORTS, INC.  Ships in the US by UPS Ground (1-6 days),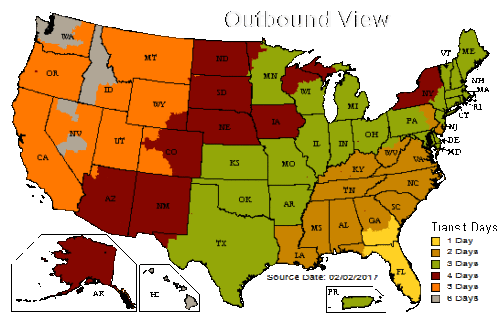 WE CAN CALCULATE THE FREIGHT FOR YOU PRIOR TO ORDERING.  JUST CALL US PRIOR TO ORDERING. Large orders can sometimes be shipped Freight (LTL) Just call us.
813-630-5695
OUTCAST WATERSPORTS, INC. only accepts credit cards with US addresses in the United States.  This includes Visa, American Express, MasterCard, &  Discover.
At Present time we are able to ship to the continental U.S. only
FLORIDA and SOUTH GEORGIA ARE GENERALLY NEXT DAY – As per the chart above.
Ground orders that do not require assembly ship (we try to ship same day) but within 2 working days.
Ground orders that require assembly ( axles, torsion axles, etc.) will take 2-5 working days depending on previously scheduled assemblies and complexity of order. Orders placed after 12:00pm Friday through Sunday will be entered the following Monday with same ground rules in place.
Some products may be disassembled to meet shipping weight requirements by UPS Ground, Home Delivery.
The day after your item has shipped is day one of the shipment. Days are referred to as business days. Saturday and Sunday are not business days.
WE prefer NOT TO USE next day air or second day due to the cost of these services and in our experience shipments often do not arrive as promised by the carrier. IF THIS SHIPPING METHOD IS CHOOSEN, OUTCAST WATERSPORTS, INC. WILL NOT BE RESPONSIBLE FOR DELAYED SHIPMENTS.  OUTCAST WATERSPORTS, INC. cannot ship VIA UPS to P.O. Box addresses. WE CAN USE PO BOXES IF it is a small item that can go via us mail. We use USPS FLAT RATE BOXES WHEN POSSIBLE.
If an item is ordered online and is out of stock for any reason, a representative will email you with an order status.  OUTCAST WATERSPORTS, INC. is not responsible for emails that get stuck in spam boxes, are not opened, or do not reach the final destination.
OUTCAST WATERSPORTS, INC. will send tracking numbers from the UPS tracking system and a second follow up from the OUTCAST WATERSPORTS, INC. ordering system via the email you have provided.
Damage:
All shipments are carefully packed and shipped.  Please NOTIFY CARRIER OF ANY DAMAGE to packaging.