SPARE MOUNT W/5LUG Hub PV1818
Description
SPARE MOUNT W/5LUG Hub PV1818
HARDWARE INCLUDED 1-1/16×1-3/8″ SPINDEL 
(OEM) TRAILER HUB KIT – 1-3/8 x 1-1/16 BEARINGS  5 LUG  4.5″ CIRCLE ALSO 5 ON 4-1/2″
Offers the convenience of having not only a spare tire, but the
the entire hub with bearings.  Just remove your dust cap or
buddy bearing , cotter pin and castle nut. this allows you to pull
the entire assembly. It doesn't matter if it's the tire or the
bearings. This will get you off the side of the road quickly safely and much easier.
Contact Us
Related Products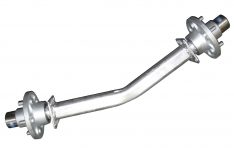 Double Spare Mount 5-6-8 LUG
Spare Tire Mounts $410.00 – $665.00 + Add to cart